Children's Art & Craft Classes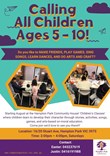 Calling All Children Ages 5 – 10!
Do you like to MAKE FRIENDS,
PLAY GAMES, SING SONGS, LEARN DANCES, AND DO ARTS AND CRAFT?
Starting August at the Hampton Park Community House! 'Children's Classes' where children learn to develop their character through stories, activities, songs, games, and arts based around moral education. Come join we'd love to see you there!!!
Location:

16/20 Stuart Ave, Hampton Park VIC 3975
Time: 2:00pm
– 4:00pm, Saturdays